What Are Custom Boxes?
Gone are the days when all you had to do was find the cheapest plain cardboard box to ship an item to your customer. Today's clients are attracted to what they see before opening a package. In this case, how you package it will tell a lot about your company. Wouldn't you want to make that first impression, especially on first-time buyers? This is where custom boxes come in!
In a nutshell, custom packaging boxes are specially designed to meet the company's needs. They impress customers with amazing graphics, ensure product safety, complement advertising strategies, and build brand loyalty. 
The client can request specific shapes, sizes, materials, colors, and box styles when ordering a custom box. In most cases, the product will determine the customization needed.
Now let's delve deeper and discover more about custom boxes and what they offer.

How Are Custom Boxes Made?
Custom boxes are made from different materials, but these two are the primary options for this type of packaging:
Paperboard SBS (solid bleached sulfate):

 

This is a virgin fiber grade whiteboard. It's available coated or uncoated. It's also light and usually flat, making it perfect for printing. It's easy to cut, fold, emboss, or hot foil stamp. This material is suitable for pharmaceutical, retail packaging, and other forms of high-end packaging.

Corrugated board:

 

This is a paperboard laminated with fluted paper in the middle. The fluted paper protects the main product by giving the box a cushioning effect. You can choose from either single-wall or double-wall construction, depending on the frailty of your product.
Now that you know what materials are used to make custom packaging boxes let's dive into the making process.
Design and Graphics
You must first provide the design of your custom printed boxes before the manufacturing process begins. After all, you know what you want to show your customers or what appeals to them. Especial offers a custom design configurator to help customers create designs based on their desired colors, sizes, and graphic elements.
Designers recommend thicker or bolder fonts for legible prints. This also ensures fine details such as serif fonts, which are pretty subtle, are not lost during printing.
Printing
The next stage is printing. Several printing techniques are used for creating custom boxes: digital printing, flexographic printing, and litho laminating. You can choose your desired type of printing based on your specific business needs.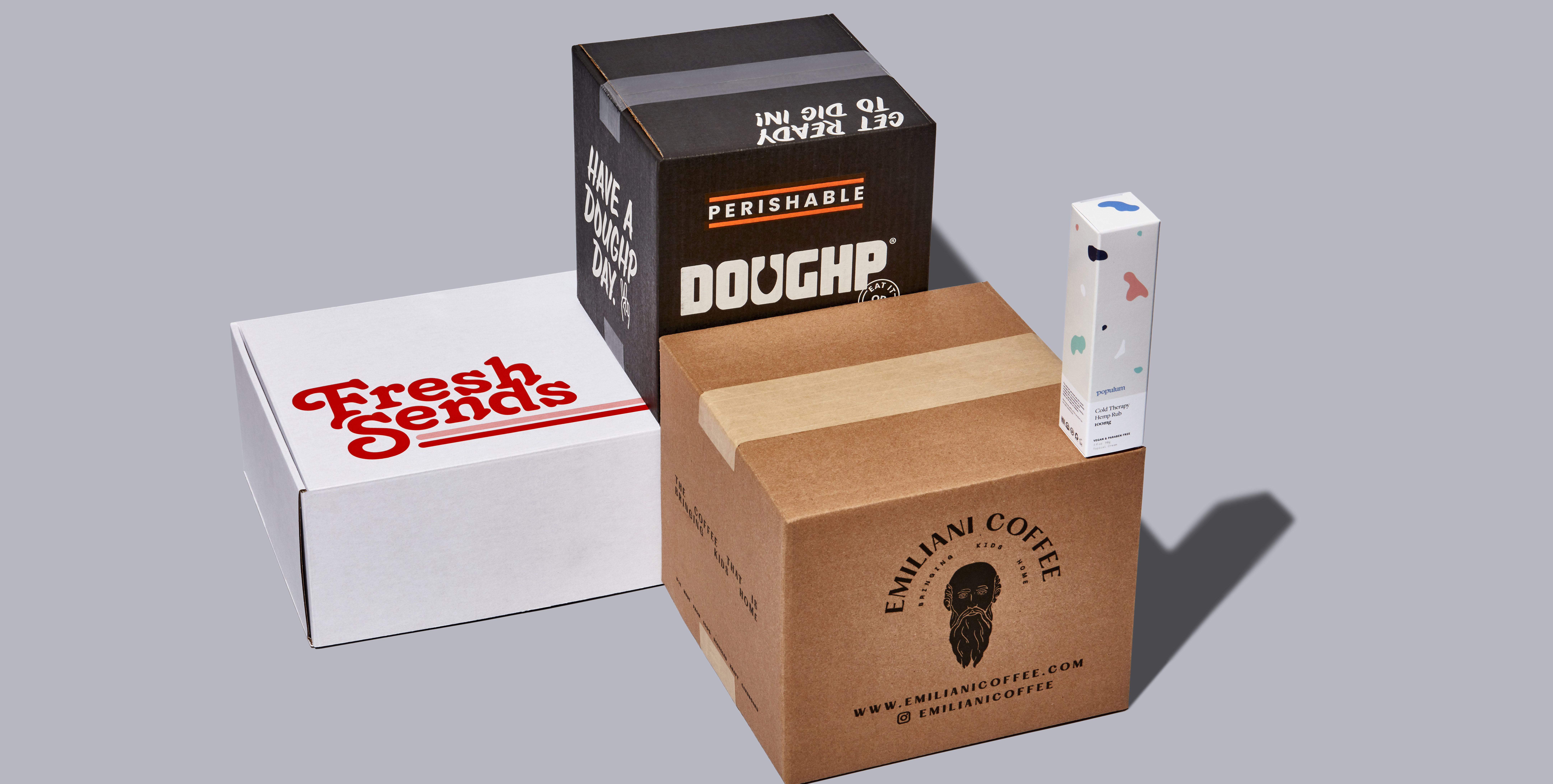 Flexographic Printing (Relief Printing)
This is the most common printing method for corrugated boxes. A flexible printing plate is attached to a large rotating cylinder. The plate artwork is printed on the board as it is fed through the machine.
This method is ideal for edge-to-edge printing, flood coating, and text-based custom designs. It's also the choice for line art with only one or two colors.
Flexographic printing is not recommended for designs with complicated graphics and many different colors. This can be expensive due to the number of printing plates required for the colors.
One of the main drawbacks of flexo printing is the "minimum dot." Small halftone dots on flexographic plates, which are made of a thick, flexible polymer substance, cannot be reliably reproduced on the paperboard. These dots print larger than what is on the plate, a condition known as dot gain. For this reason, there is a cutoff point: the minimum dot. The practical result of this is a restricted tonal range that can be printed.
Lithographic Printing (Offset Printing or Litho Lamination)
Litho lamination is the process of mounting offset lithographic printing onto a corrugated board. After lamination, the manufacturer will cut the box to the final dimensions. 
This technique is great for making very detailed and high-resolution graphics. It gives you many options and flexibility when it comes to images, colors, and other finishes. Unfortunately, litho lamination is the most expensive technique of printing, which is why suppliers recommend it for projects quantities in the thousands.
Digital Printing

Digital printing is an alternative to traditional methods, such as lithography and flexography, because it's fast. It eliminates many physical stages required in traditional printing, such as creating films and color proofs, stripping the pieces together, and making plates. It's also ideal for short to medium print runs. The prints can be directly applied on the corrugated board, and there's no need to mix different ink colors.
One downside of digital printing is that it doesn't have economies of scale like analog print methods, so it doesn't get more affordable as the volume goes up.
Types of Custom Boxes
Below are the types of custom boxes you can choose from depending on your line of business:
Mailer Boxes
A mailer box is an easy-to-assemble piece of paperboard packaging with interlocking tabs and dust flaps that hold together without tape or glue. Mailer boxes use corrugated cardboard, usually E flute ( 1/16″) or B flute (1/8″). The box is more sturdy and damage resistant than other types of paperboard packaging due to its double sidewalls.
Mailer boxes are ideal for gift and retail packaging. They are also an excellent option for subscription boxes and other promotional kits.
Shipping Boxes (RSC or Regular Slotted Carton)
These are the most common types of custom boxes. Like a mailer box, a shipping box uses corrugated cardboard, typically B flute or C flute. 
Shipping boxes are used for larger and heavier products, such as food items, electronics, and fabrics.
Shipping boxes are stackable, making them ideal for warehouse storage. However, they also require taping and more effort to assemble.
Product Boxes (Folding Cartons)
Product boxes come in various sizes and shapes and are common on retail shelves. They're usually made of paperboard and printed with art and graphics before being cut, folded, and glued together. 
The customer gets the finished product unassembled. They have to assemble the boxes and then fill them with products for sale. Common items packaged in folding cartons include beauty products, alcohol, and luxury goods.
Compared to other custom boxes, folding cartons are the lightest. They are also easy to fill, seal, and ship. 
Setup Boxes
A unique type of product box is the two-piece rigid setup box. One piece holds the product, whereas the other acts as the lid. This box is very sturdy and common in high-end product packaging—phones, jewelry, and expensive watches. There are limitless ways to make a rigid box design completely unique to your brand's voice and objective.
Econoflex Shipping Boxes
Econoflex boxes are sturdy, biodegradable, and affordable, made from 100 percent recycled and recyclable materials. The Econoflex printing technology is comparable to flexography printing, although Econoflex is cheaper because it does not require setting up charges or color plates. It's cost-effective in both small and bulk orders.

Benefits of Custom Boxes
Several benefits come with custom packaging:
1. Make Your Brand Stand Out
Many businesses ship items in plain kraft corrugated cardboard boxes, meaning all packages look alike and do not present your brand to the world. Custom boxes allow you to showcase your brand to customers using logos, messages, and artwork.
2. Create an Experience
Great packaging is one way of communicating to your clients that you care about what you offer them. Even better, customers love that "unboxing experience." Imagine their delight if they receive the product in a cute custom box with glittering colors and perfect 3D graphics of your company logo? Your business will benefit more if people experience and share the great unboxing moments with friends, family, social media followers, and fans.
3. Secure Your Products
No business wants to package products in damage-prone boxes. These include oversized boxes and poor-quality finishes. Custom boxes ensure safety because they come in the right size, preventing movement or sliding that can damage delicate products.
Designers of reputable makers and sellers of custom boxes understand this and work with brands to ensure a lasting impression on consumers.
4. Protect the Environment
Custom boxes are made of biodegradable materials, meaning they're safe for the environment. They can be recycled several times, thus saving the trees, the primary raw material source in box making.
5. Save Money
The cost of damaged goods can be detrimental to any business. You can lose money remaking or replacing the damaged products. Custom boxes come with the right fit and cushioning to protect delicate products. You can also invest in a custom paper that provides extra cushioning while making that first impression of safety and care.
 
How Much Does a Custom Box Cost, and What Impacts Pricing?
Custom boxes are more expensive than standard boxes. The cost varies depending on the type of box, material, dimensions, and custom box design. 
In this case, the more material or color used to make the box, the more expensive it will be. The printing technique used will also impact pricing, but for the most part, cost depends completely on quantity level.
It's worth noting that most custom printed boxes are shipped flat and reassembled by the customer before packaging. Therefore, you may need some help to assemble the boxes if you order a large quantity.
Frequently Asked Questions (FAQs) about Custom Boxes
Below are common questions customers ask about custom boxes.
Is Custom Packaging Worth It?
Choosing the cheapest packaging option may seem desirable. Still, it's not good for your product's safety, especially if the material is not made in the right size or lacks proper cushioning. Choosing custom packaging solutions is a proven strategy to assure the security of your products while also saving on costs in the long term. More importantly, a higher-quality, well-designed custom box will provide your consumer a better shopping experience, allowing you to stay in their minds and encourage repeat purchases, resulting in more sales. So it's worth it!
Are Custom Boxes Environmentally Friendly?
Custom boxes use corrugated paperboard (made from wood pulp), which is biodegradable. In addition, paperboard is recyclable before the fibers degrade completely. The Environmental Protection Agency (EPA) indicates that about 68 percent of paper and paperboard are recycled every year in the United States alone. Furthermore, the fact that custom packaging boxes allow customers to pack products in perfectly sized boxes prevents wastage of material. If less material is used, less paperboard is manufactured, saving more trees from being cut down for packaging.
Where Do I Order Custom Boxes?
Especial is your to-go place for all your custom orders. We make custom packaging boxes that satisfy you and your customers, from mailers to shipping and product boxes. Our state-of-the-art online design tool and live preview technology enable customers to unpack their creativity and design exactly how they want and get real-time quotes. We also have technicians to assist you with the best designs in the market.